Montana's Largest Family-Owned Liquor Store
A favorite spot for locals and visiting sportsmen alike, we continually offer our customers a chance to taste fantastic products and save big on many great brands. Get your favorite beers, wines, liquors, and other beverages at highly competitive prices. Plus, take advantage of great savings on recognizable liquor brands.
Be sure to browse our wide selection of wines at our West End location!
Come see our Growler Station for micro beers from local breweries and highly sought-after national beers.
Each of our locations has something special to offer you.
Our customers come first, and that is evident from the moment you step through our doors. After a long day you're number one with us.
West End (3925 Grand Ave, Billings)
Featuring one of the best and largest wine selections in the state of Montana, in a warm and relaxing environment.
Call us at 406-655-3393.
Heights (247 Main St, Billings)
Save money and find the flavors you love by visiting our Heights Shot Bar, only one of its kind in Montana. Now featuring a Growler Station with premium craft beers!
Call us at 406-245-8118.
Add to the fun with pre-made Jell-O and pudding shots! We will custom create shots in bulk for your event, even with premium liquors. Jell-O and pudding shots can be custom ordered in many fun flavors tailor made for all occasions! Please call 1 week in advance for all custom orders.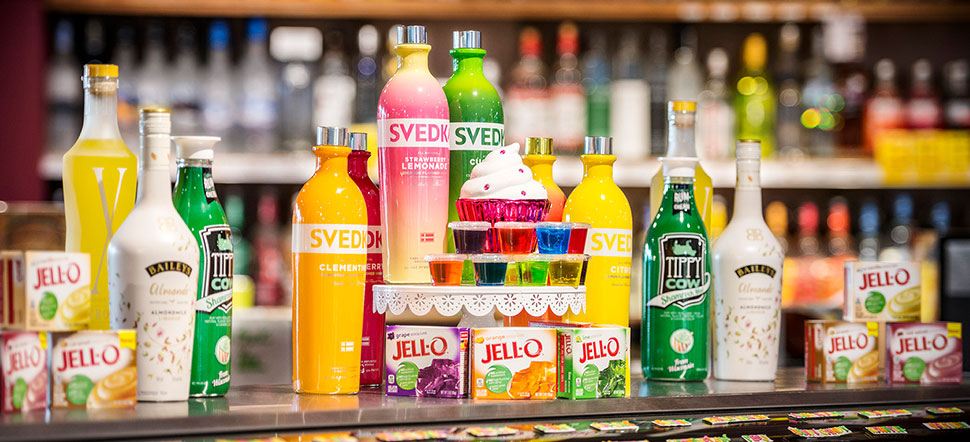 Find Your Favorite Drinks
Foreign, Domestic, and Micro-brewed Beers
Wine
Liquor
Shots
Specialty Jell-O and pudding shots
Only at Bottles & Shots
Heights Shot Bar & Growler Station
Huge Wine Selection Featuring your Favorite Labels
50+ Types of Jell-O and Pudding Shots (Special Orders Available)
Custom Gift Baskets
Montana-Made Items & Souvenirs
West End or Heights Location
Taste fantastic products and save big on many great brands!